Holistic Services
At Willow Tree Healing House in Hinton, AB, we offer a variety of healing sessions for the mind, body, soul, and spirit.
Holistic Nutritional Consultant
Shamanic Healing

Reiki Healing

Flower Essence Therapy

Tipi Wisdom Teachings
Applied Kinesiology Muscle Testing

Sacred Drum Circle

Medicine Wheel Teachings
Homeopathic Medicine
Founded in Germany back in the late 1700s, homeopathy or homeopathic medicine is a medical philosophy centered on the idea that our bodies can heal themselves. Theoretically, homeopathy improves the healing processes of the human body.
Homeopathic health practitioners are commonly known as homeopaths. They typically use pills and liquid-based concoctions containing active ingredients to treat diseases. Throughout history, homeopathy has helped people maintain good health by treating a wide range of ailments, from minor injuries to long-term illnesses.
Homeopathy is fast-acting, effective, and extremely safe without unwanted side effects. Everyone can benefit from this method – babies, elderly, and even animals.
Flower Essences Therapy
Flower essences are liquid extracts taken to address emotional well-being and soul development, as well as mental and physical health issues. Its valuable contribution to holistic health and wellness programs is recognized today.
Flower essences are prepared from a sun infusion of wild flowers or pristine garden blossoms in a bowl of water. Preparation needs careful attention to the purity, vibrancy, and potency of the flower.
Though flower essences resemble other health remedies which come in dropper bottles, these remedies do not work because of the liquid's chemical composition. With flower essences, you can extract the plant's life force and feel their natural vibrations.
Therapeutic Nutrition
Holistic nutritional therapy is a natural approach to health care that enables a patient to tap into his or her body's innate healing ability. Food affects your health and has a direct effect on common illnesses including:
Skin Health

Food Intolerances

Energy Levels

Children's Health
Digestive Issues

Immunity

Hormonal Balancing

Fibromyalgia
Heart Disease

Stress

Depression

Mental and Emotional Disorders
Even when disturbances are accompanied by mental and emotional imbalances, proper care of the physical body has a major influence on recovery. The goal is to work with the whole person to address the root cause of any imbalance or health issue rather than merely suppress the symptoms.
"No illness which can be treated by diet should be treated by any other means."
– Maimonides, 1158 AD
Shamanic Healing
An ancient healing tradition, shamanism helps you connect with nature and all of creation. Shamanic practices use the power of nature, and its indigenous teachings are derived from the simplest truths of nature.
Shamans are healers who move to an altered state of consciousness to access hidden realities in the spirit world and extract healing, power, and information. They are concerned not only with the health of the individual, but also with the health of the entire community. This includes people, plants, animals, and other forms of life.
Shamans restore balance and wholeness by addressing the root cause of the problem. Shamanic healing uses several methods, including soul retrieval, removal of unwanted energies, retrieval of a spiritual ally, soul remembering, and ancestral work.
Shamanism can also reprogram your DNA and delete the ancestral blueprint by replacing it with your new belief system. By changing the DNA in your own life, your children won't have to bear the health issues of your ancestors. The cycle is essentially put to a stop.
Reiki Healing
Reiki is an intelligent universal energy and a form of hands-on healing. Regardless of your beliefs, the importance lies in the notion that there is a higher force that permeates all of existence. Reiki channels a healing energy and is the key to unlock the body's optimal healing capabilities.
There are 7 main energy centers in the body called chakras that control the flow of the universal life force. Whenever chakras are blocked or clogged, the flow of energy in the body is diluted and the person becomes sick.
A full Reiki treatment clears the chakras and rebalances the flow of life force in the body. This stimulates the body's immune system and encourages natural healing.
Kinesiology Muscle Testing
Kinesiology muscle testing effectively pinpoints imbalances in our body by applying a slight amount of pressure to a large muscle. It is non-invasive and provides information on various complications, such as nutritional deficiencies, hormone Imbalance, toxic heavy metals and emotional issues.
Through a series of applied kinesiology tests, practitioners are able to locate problem areas. They also identify relationships between symptoms belonging to different areas of concern.
From homeopathy to Reiki healing, you are definitely on the right track to optimal health.
Call us today at 780-816-0089 or email us for more information.
NEW TESTING AVAILABLE! Hormone, Emotional and Heavy Metal Testing
I am very pleased to add the new "Applied Kinesiology Muscle Testing" to our Holistic menu of services. Hormone, Emotional and Heavy Metal Testing. Specific muscle testing aides in diagnosing and formulating a specialized treatment plan.
Hormone Testing – Pinpoint which hormone levels are out of balance, such as; Estrogen, FSH, Thyroid, Cortisol, even inflammation level (30 different testing vials).

Heavy Metal Testing – Heavy metals such as mercury, lead, arsenic, and cadmium can accumulate in the body causing a variety of health concerns.

**Emotional Testing – Such an adequate way to form a treatment plan. Know what emotions are trapped within your Chakras and Luminous Energy Field, caused by trauma, past lives, abuse etc. This knowledge will enable healing through energy work and supplements (earth medicine). Great for self knowledge and healing thyself!
Contact Joelle to book your consultation or information on these new products.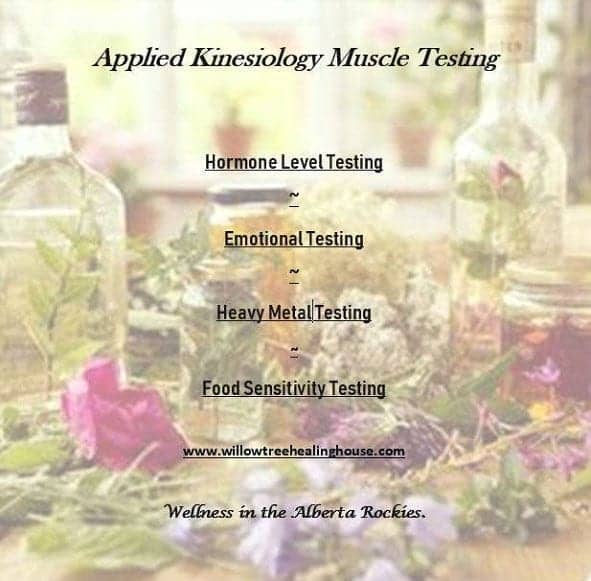 CHRONIC PAIN MANAGEMENT
Explore your options regarding chronic inflammation and diseases such as Arthritis, Rheumatoid Arthritis, Fibromyalgia, and pain management for persistent pain due to such ailments as cancer, multiple sclerosis, stomach ulcers, and gallbladder disease., and pain due to injury.